Aftellen tot het 26 uurs toernooi!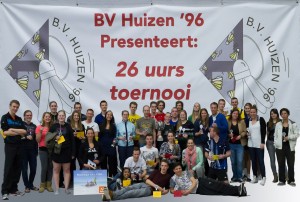 Het is bijna zover! In het weekend van 8 en 9 april 2017 houden we het befaamde 26 uurs toernooi van B.V. Huizen '96. Of je nu meedoet als deelnemer of supporter: het is altijd gezellig! En één ding weet je zeker: het wordt laat! Ook dit jaar houden we een tombola… oh la la… met hele mooie prijzen!
Lees er alles over op de toernooipagina.